Hyalofemme is the non-hormonal treatment for women suffering from vaginal dryness due to (breast) cancer.
The active ingredient of Hyalofemme vaginal gel is Hydeal-D and consists 100% of a hyaluronic acid derivative.
Hyalofemme is a colorless and odorless gel for vaginal use. Compared to Premeno Duo, Hyalofemme has a mild pH (4.7), making Hyalofemme very suitable for very atrophic tissue.
Hyaluronic acid is a substance that occurs naturally in the tissue of the vagina and provides moisture regulation and tissue repair. Women who enter menopause or have been treated with chemotherapy can develop vaginal dryness. Women who just gave birth or during breastfeeding may also suffer from vaginal dryness.
Vaginal dryness can cause many discomforts such as irritation, painful sex, minor damage to the vaginal epithelium, itching and inflammation.
It is recommended to use Hyalofemme once every 3 days using the applicator. Once applied in the vagina the gel adheres firmly to the vagina epithelium and stimulates the mucous membranes to produce moisture, making them soft and supple again. Hyalofemme accelerates the repair of minor lesions of the vaginal tissue. Burning sensation, itching and all other complaints that can result from vaginal dryness, decrease quickly after applying Hyalofemme gel.
Active ingredients of Hyalofemme:
hyaluronic acid
propylene glycol
carbomer
distilled water
sodium hydroxide
methyl propanediol
1,2 hexanediol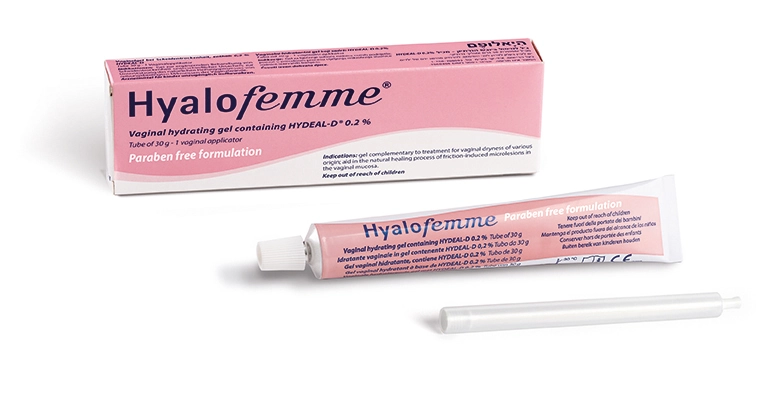 Hyalofemme® vaginal gel
Z-Index number: 15391949
Pharmacy Purchase price ex. VAT: € 9.62
Consumer price incl. VAT: € 13.97